WELCOME TO PINKBIKE IN 2022
NETHERLANDS FIELD TEST
6 new short-distance bikes
---
Words by Mike Levy, photos by Tom Richards
In the last Field Test series, the crew rode enduro bikes in Bellingham, Washington, but this time things are a lot more French, with a lot less suspension to save our asses. That's because we packed up our gear and flew to Quebec City, Canada with six of the most interesting (and available) short-distance bikes to see how they compare and perform off our usual trails. There are a few different names for this category, some more silly and fancy than others, but the core is 125mm or less in the rear and focuses on covering ground quickly. Call the wheels what you want, but I think we'll just call them fun.
There was a time when all full suspension mountain bikes were short distance mountain bikes, but then they started getting more and more specialized, people started forming classes and well, here we are. In this Field Test series, most of our test bikes are designed to pedal well, cover ground quickly and not weigh much, but it's always more interesting when you include a few deviations. That's why we brought RSD's aluminum Wildcat V3, which retails for $3,999, and Evil's ultra-black Following, both on the sturdier side of the short-travel spectrum, to Quebec City.
The other four bikes in this group are Ibis' Exie and Allied's BC40, both made in the USA and priced to match. BMC's gorgeous green Fourstroke LT One is also here, and it was almost a shame to get it muddy, and Lapierre sent us the new XRM, a cross-country skier with an all-day marathon mindset.
The first step to figuring out which bikes we want to field test is to make sure we don't have one you want to read about, which has proven surprisingly easy to do in every field test ever held. Jokes aside, the factors that influence the choice of bicycles are quite simple. First, they have to be new or at least interesting, and second, they have to be somewhat purchasable by someone somewhere in the world. As you can imagine, it has been difficult to check for the past couple of years, but availability is improving.
Another note: We always want bikes that do things differently than others, even if they have similar intentions. Sure, there's an argument for exactly the same type of bikes crashing into each other, but you know what that would be? Boring.
Instead, we wanted a pair of bikes that were all about efficiency and speed, a pair that would be good for sumptuous jumps, and—here's a crazy idea—how about one or two that didn't cost more than $10,000? Yes, some of these bikes cost a lot of money, but that's also why we do our Value Bike Field Tests every single year; If you want straight bang for your buck, this is the field test for you. And that's why we have RSD's $3,999 Wildcat in this roundup, so we can discuss what spending twice as much money does – and doesn't – do for you.
There's really only one way to properly judge a bike: drive the hell out of it. But when it comes to field tests, we need to ride them all back-to-back to talk about how the bikes compare. That's what these field tests are all about, comparing and talking about the strengths and weaknesses of each and what kind of rider and terrain each bike is best suited for.
That means if you bump into us on the trail, you might find us changing pedals, working on shocks, and doing other things as we zip between our countless Quebec City drives. And while that means we can't comment much on long-term durability, it gives us plenty of impressions and disagreements to argue about on camera. We got out for a few big laps, but most of our time needed more compact and tighter test loops to allow for those sequential impressions that are so important.
Equally important is the terrain we rode the bikes on; As much as I enjoy gliding down a sketchy line on a short-travel bike, we need to ride them the way they're meant to be ridden. In the case of our six short-distance bikes, that meant plenty of crunching trails littered with roots and rocks, but nothing more than any of these bikes should be able to brush easily.
VBN Secteur Shannahan mountain bike trails
Most of our test runs were done in the woods around the legendary Mont-Sainte-Anne ski hill, where you'll find everything from smooth banks to as many roots and rocks as you want and then a whole bunch more. We also headed to the Massif de Charlevoix road to ride the lifts, the Empire 47 trail center for the Impossible Climb, and the Sentiers du Moulin and Vallee Bras du Nord for some of the best Quebecois singletrack.
Of course, it wouldn't be a field test without the Huck to Flat and Impossible Climb bikes, and since these are short-travel bikes, there was no way I could talk myself out of a new performance test.
This time it was myself, Matt Beer and the ever smiling Sarah Moore who volunteered to ride these bikes. The three of us, along with our video and photo crew, flew from the Pacific Northwest to Quebec City to bike and eat way too much cheese, if there is such a thing. Luckily, Sarah speaks better French than Matt and I do English, so she was in charge of feeding, directing and generally making sure we didn't say or do anything too embarrassing.
And speaking of getting things done, Tom Richards, Max Barron and Stefan Licko were running cameras and yelling, "One more time!" about a thousand times; we wouldn't have any of these videos or photos without their hard work.
Matt Beer
Height:
5'10" / 178cm
Weight:
170 lb / 77 kg
Notes:
Technical reporter, allergic to everything
Mike Levy
Height:
5'10" / 178cm
Weight:
150 lb / 68 kg
Notes:
A technical reporter, impatiently waiting for the aliens to arrive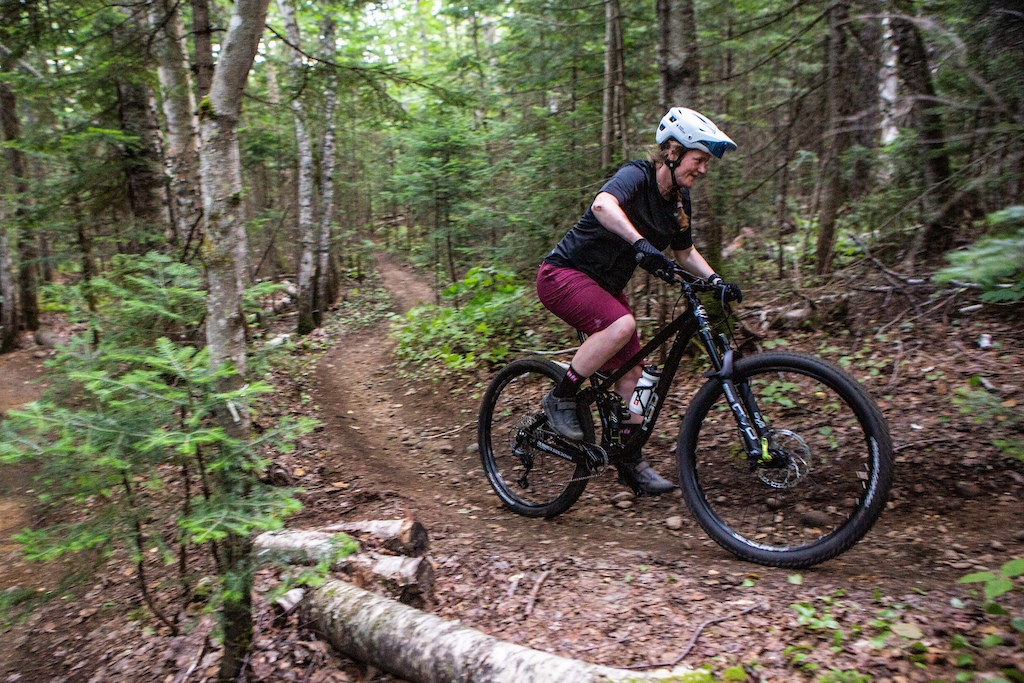 Sarah Moore
Height:
5'7″ / 170cm
Weight:
160 lbs / 72.6 kg
Notes:
Content management, too fast to be that nice
---

---
#Video #Downcountry #Field #Test #Pinkbike